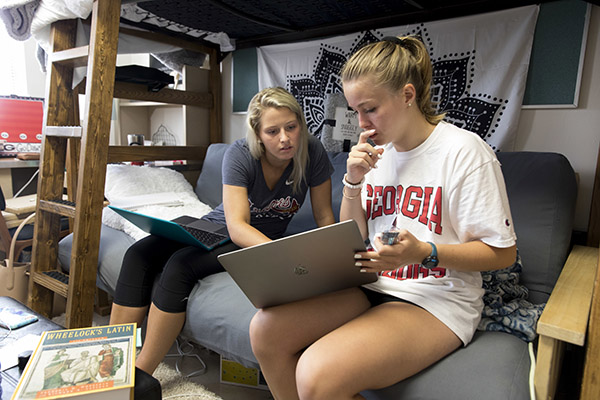 What is a housing contract and why is it important? Let us break it down for you.
The importance of a housing contract
It's that time of year when first-year students are signing their housing contracts for fall semester. The housing contract is a legally binding agreement between the resident (the student) and the Board of Regents and the University System of Georgia that secures a living space. The housing contract:
Defines the terms and conditions of occupancy
Addresses pertinent Georgia laws
Refers to specific sections of the Student Code of Conduct and the student handbook
By executing a contract online, students are agreeing to the terms of the housing contract and making a commitment to live on campus and to pay rates for the fall and spring semesters and, in some cases, summer semester.
We do, however, encourage students to seek out study abroad opportunities or internships, and those provisions are included in the section of the contract detailing proper termination. Failure to properly terminate a housing contract could result in fees or flags on your student's account, which could impact their ability to register for classes or receive a copy of their transcript following graduation.
Proper planning and review of the contract will help ensure they are comfortable with their living space and understand the terms of occupancy. As always, if families or students have any questions about the contract, they may contact University Housing at 706-542-1421 or housing@uga.edu.
Students can access their specific housing contract in The Dawg House—our online housing portal—or view a general copy of the housing contract at https://housing.uga.edu/sa_docs/contracts/housing_contract2022-2023.pdf.