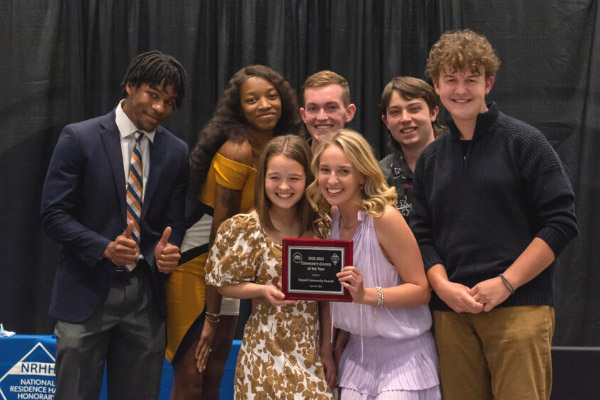 Members of the housing community attended the Starlight Diamond Banquet on Tuesday, April 19 to celebrate the end of another great academic year of programming.
Attendees included executive board members of the National Residence Hall Honorary (NRHH) and the Residence Hall Association (RHA) as well as Resident Assistants, C.L.A.S.S (Continuing the Legacy of African American Student Success) advocates, community council members, and professional staff members.
Students on the Banquet Committee worked tirelessly to set up for the event in order to ensure the evening went smoothly. Fatime Niane, secretary of RHA and co-chair of the Banquet Committee, explained how it would be the first in-person banquet since the pandemic and how she was excited for everyone to enjoy the work that was put in for the event to occur. This banquet was a celebration for all the hardworking committees, award recipients, and the efforts of each community council.
The event began with a virtual keynote speech from Kelly Strachan who served as the Creswell Community Council President from 2017 to 2018. Although she is now a graduate student at John Hopkins School of Medicine, she returned to address the members and directors. In her speech, she credited the Residence Hall Association for assisting her with her public speaking skills and helping her learn the importance of investing in the communities and people surrounding her.
Following the keynote speech, members of the RHA executive board took turns on stage presenting highlights of the year and announcing the winners of this year's Of The Year (OTY) Awards. Aishat Lawal, vice president of RHA and the recipient of the D.W. Mendenhall Award said she was "ready to continue the great work next year and make it a memorable one." A full list of award winners is included below.
As the night wrapped up, the communities turned their attention to the many fun photo opportunities in the room. Prior to taking a picture at the photobooth, Taylor Shults, the historian for the Creswell Community Council, stated that the banquet was a bittersweet "moving-on" event and a great final celebration of the year. To conclude the banquet, the Residence Hall Association's executive board for the 2022-2023 academic year was announced. Paul McCrary, the incoming president of RHA gave a vision for the future which included a focus on showcasing advocacy and increasing turnout through a goal of having every resident attend at least one RHA event in the upcoming academic year.
View Starlight Diamond Banquet Facebook Album
DIVERSITY PROGRAM OF THE YEAR
"Hair Talk" Niyah Brown, Creswell RA
SOCIAL PROGRAM OF THE YEAR
"Game Night" Elisa Sacchetti, Owen Conrad Matthew Cassada, Mina Yaykin ECV RAs
EDUCATIONAL PROGRAM OF THE YEAR
"Let's Talk About Sex" Shama Khan, Caleb Buckler Owen Conrad, Jordan Harris ECV RAs
COMMUNITY COUNCIL OF THE YEAR
Russell Community Council
GERARD KOWALSKI OUTSTANDING LEADERSHIP AND SERVICE AWARD
Savannah Jackson
ALAN GOODNO AWARD
Val Lonsway
DIANA FRUTH AWARD
Isabelle Philip
D.W. MENDENHALL AWARD
Aishat Lawal
ADVISOR OF THE YEAR
Kacie Connelly
COMMUNITY SERVICES ASSISTANT OF THE YEAR
Gloria Del Toro
C.L.A.S.S. ADVOCATE OF THE YEAR
Jasmine Garner
BUILDING SERVICE WORKER OF THE YEAR
Nakita Nash
DAN HALLENBECK AWARD
Dawson Templin
RESIDENT ASSISTANT OF THE YEAR
Elisa Sacchetti
STUDENT LEADER OF THE YEAR
Aaron Ogunlana
GRADUATE RESIDENT OF THE YEAR
Hailey Steuer
RESIDENCE LIFE PROFESSIONAL OF THE YEAR
Macy Reeves
THE RESILIENCY AWARD
Laura Kate Holden
FIRST YEAR EXPERIENCE OF THE YEAR
Dawson Jordan
EXECUTIVE BOARD MEMBER OF THE YEAR
Paul McCrary
By: Riya Ramaswamy, Housing Ambassador