Jim Day Housing Scholarship Application
Dr. James "Jim" Day served as executive director of University Housing from 1990 to 2006. Dr. Day conceived and initially funded the University Housing scholarship fund to assist students with financial need offset the cost of on-campus housing. In recognition of his devoted service to the University of Georgia and in honor of his personal commitment to helping secure financial assistance for students, the scholarship was renamed the Jim Day Housing Scholarship upon his retirement.
Jim Day Housing Scholarship General Information
Four $1000 scholarships will be awarded for the fall 2023 semester. Funds for the Jim Day Housing Scholarship are raised by the Office of the Vice President for Student Affairs and University Housing. Scholarship recipients will be selected by a panel of University Housing staff and students based on the eligibility requirements listed below.

Recipients are expected to be notified early May 2023 and the award transmitted to student accounts before fall 2023 fees are due. Any questions regarding the scholarship should be directed to Susan Dodson, alumni relations coordinator for University Housing, susan.dodson@uga.edu or 706-542-3395.

The final amount and number of awards is at the discretion of the JDHS Scholarship Committee and will be determined by the funds accrued in the scholarship fund each year.

Jim Day Housing Scholarship Eligibility Requirements
You must complete the Jim Day Housing Scholarship application in its entirety and submit via Qualtrics by March 31, 2023
You must have demonstrated financial need as determined by the UGA Office of Financial Aid
You must sign a contract for an on-campus room assignment for the 2023-2024 academic year. If you are awarded a scholarship and do not sign a contract or live on campus for the 2023-2024 academic year you will forfeit the scholarship
You must be a current UGA undergraduate student with an on-campus room assignment. Fall 2023 resident assistant and C.L.A.S.S. advocate staff are not eligible for this scholarship. If selected as a scholarship recipient, you agree to be photographed and grant permission for University Housing to use the photograph for promotional materials. In addition, you agree to grant University Housing permission to use excerpts from your application essay for promotional materials
The application includes a short essay focused on your experiences with and contributions to the on-campus community.
Make a donation to the Jim Day Scholarship fund.
Questions? Contact Susan Dodson, 706-542-3395.
2022 Jim Day Housing Scholarship Winners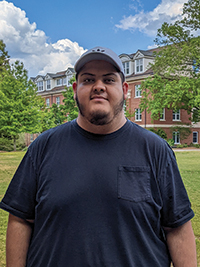 WILLIAM GONZALEZ
As a first-generation college student, William and his father were unaware of the true financial burden of attending college, but his participation in organizations such as the Hispanic Student Association and Latinos Invested in the Students of Tomorrow demonstrate his commitment to guiding other students like himself.
"It took me until the 4th grade to grasp a solid understanding of English," he wrote in his application essay. "This is a pattern I have adopted to achieve success, never giving up and moving forwards with life."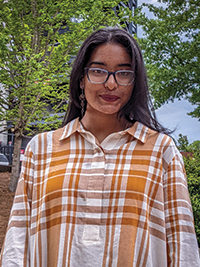 AREEBA FATIMA
Areeba and her sister Adeeba were the first ones in their family to go to college in the United States.
"Living in the dorms was one of the most memorable moments of my first semester at UGA," she wrote. "It was more than just a room to sleep in. It was a privilege. Having a place to come back to after a hard day is a privilege. Having access to comfort is a privilege and being surrounded by people who motivate you is a privilege. My dorm room became a home, and the other residents became my family. The dorms gave me a feeling of a community, something I do not want to give up."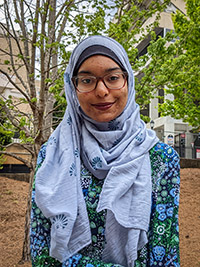 ADEEBA FATIMA
Another first-generation student, Adeeba, says, "Coming to college, I had dreams of decorating my dorm and exploring downtown Athens. However, I was tormented by the thought of saving money," she wrote. "It was the thought of succeeding in college that kept me motivated."
Adeeba says living on campus made her decide to take a chance on herself—to talk more, smile more, and live more. In addition to her role as historian for the Muslim Student Organization (MSA), she now plans to use her experiences to help others by creating a club focused on mental health and financial hardships.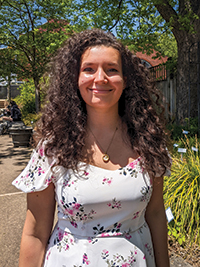 SOPHIA RODRIGUEZ
Sophia admits COVID initially made it difficult to have the college experience she wanted. "I spent a lot of time alone. But—one day in October—a group of people playing tag football on Myers Quad invited me to join them," she wrote. "It wasn't just the weight of my backpack I put down when I joined the group, but the weight of my loneliness. From that point on I played with them every day."
Because of that connection, Sophia strives to make others feel welcome, too.
After graduation, she plans to work as a high school English teacher in Spain taking that spirit of inclusivity and community to her new role.