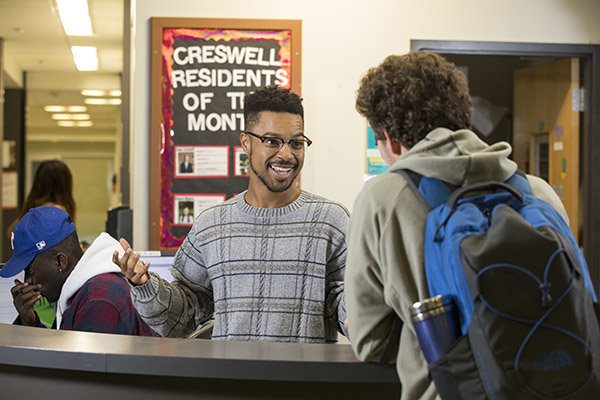 Housing is one of the largest student employers on campus! Learn how you can be a part of the team.
Work for housing
Did you know that students can work for University Housing? University Housing hires one of the largest student-staff pools on campus. From being a resident assistant to a housing ambassador, there are plenty of positions that fit any student wanting to find a job on campus. Student worker positions within University Housing at the University of Georgia are paid. These jobs also give students opportunities to meet people living in their community and create lifelong relationships with professionals across campus.
As someone who is a student worker for University Housing and the person writing this blog, I speak from experience when I say that every position offered to students through University Housing is unique and creates many learning opportunities. My time with University Housing has offered me the training of new skills, real-life experience in customer service and professionalism, and even multiple roles in University Housing.
To expand on some of the positions that are offered to students through University Housing, let's start with one of our most popular roles: resident assistant. Resident assistants, (RAs), live in the residence halls and help residents with anything they may need. RAs also host programs and events for students to enjoy. Two other positions that University Housing has open to students are public relations positions—housing ambassadors and housing video producers. Students in these positions are tasked with creating content for University Housing's social media channels, as well as showcasing events across campus.
One of the most popular positions is the CSA position—community services assistant. This role offers the greatest flexibility in scheduling because these students work at the 24-hour desks within housing.
Students should apply now for fall positions: https://housing.uga.edu/about-us/employment/.