Dawgs Ditch the Dumpster (Dawgs Ditch for short) is an annual landfill diversion initiative and student volunteer opportunity that reflects housing's commitments to sustainability and student leadership. The program allows residents living on campus to donate unwanted items that may otherwise end up in a landfill.
While donating unwanted items is an option, University Housing encourages residents to think about sustainable options such as reusing items another year or longer, taking accepted items directly to the UGA Swap Shop, selling unwanted items, and lastly donating at our convenient drop off sites.
Spring 2023 donation timeline
Monday, May 1 – Saturday, May 13
Donation locations
What can I donate?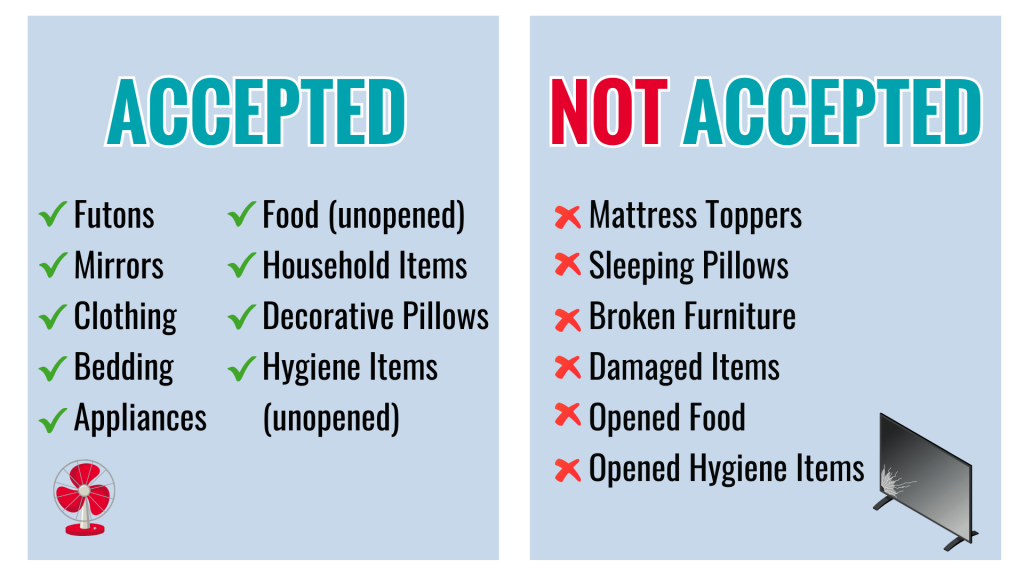 Our impact
Every year, Dawgs Ditch the Dumpster saves an average of 60,000 lbs. of material from ending up in the landfill. That is the equivalent of five 53-ft trailers full of donations.
Campus partners
America's Thrift Store:
With every donation made to America's Thrift Stores, they are able to give back to their six charity partners across the five states they operate in. With our local America's Thrift Store partnering with Children's Healthcare of Atlanta.
Goodwill:
Through the "reuse" and "repurpose" model, Goodwill organizations help communities extend the life of items and prevent more items from piling up in local landfills. Goodwill organizations assist people through a variety of employment placement services, job training programs and other community-based services.
Athens Area Habitat for Humanity Restore:
ReStores are Habitat thrift stores, helping to create housing with every purchase and donation you make. Athens Area Habitat has two locations – ReStore West at4125 Atlanta Highway and ReStore East at532 Barber Street. They take in new and used goods, and sell them at 25% to90% off retail. ReStore proceeds are used to finance the construction and renovation of cost-manageable housing in the Athens area.
The Backpack Project:
The Backpack Project of Athens is a student run 501©(3) nonprofit organization that serves the homeless community in Athens, Georgia. They aim to engage with the Athens homeless population; host charitable volunteer programs based on service gaps identified in the community; raise money, help assemble, and distribute homeless care backpacks; and raise awareness about the causes of homelessness.
Family Promise:
Family Promise of Athens (formerly the Interfaith Hospitality Network of Athens, Inc.) is a non-profit organization committed to providing housing supports to families with children who are facing or experiencing the crisis of homelessness.
Project Safe:
Project Safe works to end domestic violence through crisis intervention, ongoing supportive services, systems change advocacy, and prevention and education in the community.
Volunteer
Dawgs Ditch the Dumpster relates directly to core values of University Housing to promote sustainability and community engagement. To be a part of our large landfill diversion event while meeting other students from across campus, we invite you to make an impact as a "Dawgs Ditch" volunteer. Volunteers will have the opportunity to meet other students, receive a T-shirt, and a gift card to a local thrift store.