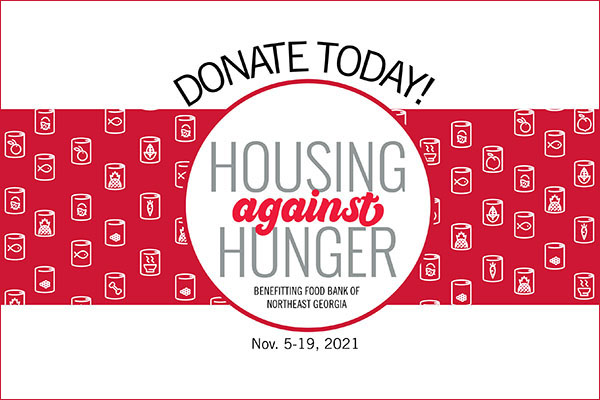 We're challenging ourselves to collect 10,000 lbs. of food for the Food Bank of Northeast Georgia… and you can help!
The Athens community at the core of what makes the University of Georgia so special and, although UGA students and alumni are serving communities and improving lives across the globe—we all start here. At home in Athens.
That's why we take two weeks every year to give directly back to those in our community who need it the most through Housing Against Hunger—our effort to collect the equivalent of 10,000 lbs. of food for the Food Bank of Northeast Georgia.
Nov. 5-19 we're asking students, staff, supporters and friends to donate one of two ways: by filling the bins at the 24-hour desks with non-perishable food items and by participating in a virtual food drive, where every $5 donated equals 25 lbs. of real food for hungry community members.
Students who donate can enter up to once daily to win daily door prizes, as well as larger prizes such as a $100 shopping spree to the UGA bookstore, UGA hoodies and first pick of their on-campus space for next year.
We hope you consider donating, as well as encouraging your friends and family—as we commit to a future that's brighter than today!